Affiliate marketing is a form of online advertising that allows you to sell other people's products and services on your website. In order to be successful at affiliate marketing, you will need to have a well-designed website that attracts visitors and encourages them to click on the links that lead to the merchant's site.
A good way to achieve this is by using a website builder. Website builders are software programs that allow you to easily create and customize a website without needing any coding or design experience.
In this article, we will provide you with some tips on how to choose the best website builder for your affiliate marketing needs.
In this article, we will go over the top 7 website builders for affiliate marketing so that you can get started on the right foot.
On top of that, we will also provide some tips on choosing the right website builder for your needs. And talk about the best strategies you can use to squeeze the last juice out of your platform of choice.
How to Choose the Best Website Builder as an Affiliate
As you will see, even though we are only talking about the top 7 tools, there are hundreds of other builders out there.
What this means is that if you don't know what to look for, you will have a hard time choosing from the sea of website builders.
So, to make your work easier, here are some of the things most affiliates care about. This means that your chosen website builder should at least have each of these.
a). Special Templates
The first thing that you need to consider when choosing a website builder is whether it offers templates that are specifically designed for affiliate marketing websites.
These templates should be easy to navigate and should include all of the necessary information that visitors need in order to make a purchase.
Additionally, the template should be visually appealing so that it catches the attention of potential customers.
If possible, try to find a template that includes testimonials from other affiliates who have used the same software program successfully. This can give you an idea of what others think about the software before making your final decision.
b). Features and Functionality
In addition to offering templates, the best website builders will also provide you with a wide range of features that can help you build a successful affiliate marketing website.
For example, some software programs allow you to easily add product images and videos so that potential customers can see what they are buying before making a purchase.
Other features might include the ability to create custom landing pages or thank-you pages after someone makes a purchase through your site.
Make sure that the software program you choose offers all of the features and functionality that you need in order for your site to be successful.
c). Support and Documentation
Another important factor to consider when choosing a website builder for your affiliate marketing business is the level of support that you will receive.
Some site builder tools offer live chat or email support so that you can get answers to your questions quickly.
Others might only provide documentation so that you can learn how to use the software on your own. If possible, try to find a software program that offers both options so that you have someone available if you need help using the features or run into any technical problems.
d). Pricing
Then there's the money part.
You need to consider the price of the website builder before making your final decision.
Some software programs are free while others charge a monthly fee. In general, the more features and functionality you want, the higher the price will be.
However, there are some affordable options available so make sure that you compare prices before choosing a program.
Additionally, many software providers offer discounts if you purchase multiple licenses or sign up for an annual subscription instead of paying on a month-to-month basis.
e). Marketing and SEO
The final thing to consider is whether or not the website builder offers marketing and SEO features.
If you want your affiliate marketing site to be successful, it needs to rank high in search engines like Google so that potential customers can find it easily.
Therefore, you need a website builder that includes tools for optimizing your website for search engines as well as promoting it through social media sites and other online channels.
Top 7 Website Builders for Affiliate Marketing
Now that you know how to choose the best website builder for your affiliate marketing needs, it is time to start looking at some of the different software programs available.
Take your sweet time and compare the features, functionality, support options, and pricing of each program before making your final decision.
1. WordPress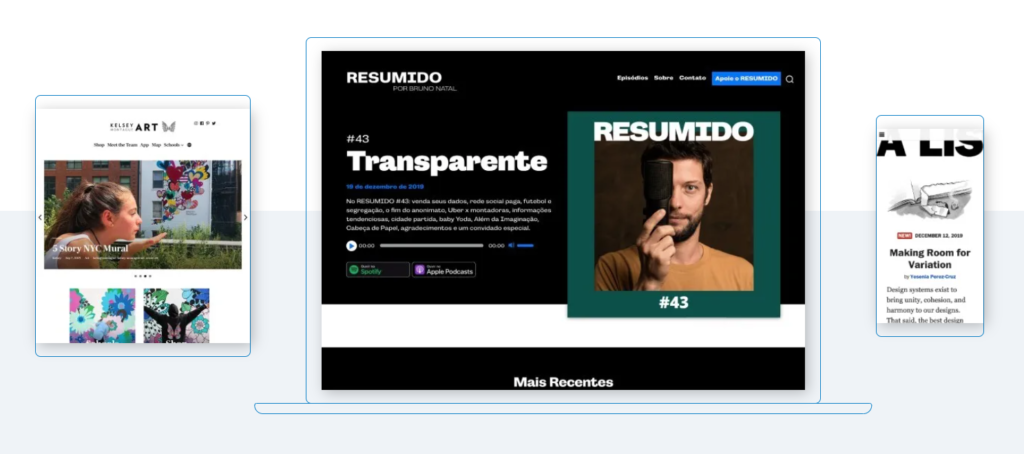 I know what you are thinking: WordPress is not a website builder! And you are right, WP is not a website builder, it is a CMS.
But there's also WordPress.com, which is technically a website builder.
Either way, WordPress is the best platform for affiliate marketing because of its simplicity, accessibility, and flexibility.
It's a popular content management system (CMS) that can be used to create websites and blogs, which makes it perfect for affiliate marketing.
WordPress is easy to use and simple to configure, so you can start creating your affiliate marketing campaigns right away. Additionally, WordPress is widely used across the web, making it more likely that your audience will be familiar with it.
What's more, WordPress is one of the most affordable platforms available, making it a great option for small businesses and beginner affiliates alike.
Be it WordPress.org which is absolutely free, or its .com sister which comes at $4 per month for the starter plan.
WordPress Affiliate Marketing Features
Let's see what WordPress offers to affiliates:
SEO Tools: One of WordPress's biggest advantages as an affiliate marketing platform is its vast array of SEO tools. These include plugins like Yoast and All in One SEO Pack that make it easy to optimize your website for better search engine ranking and visibility.
Analytics: Affiliates can also take advantage of the powerful analytics tools available on WordPress, such as Google Analytics, to track their site's traffic and performance.
Ecommerce Functionality: If you plan on selling products or services through your affiliate website, then WordPress has you covered with its eCommerce functionality. With plugins like WooCommerce, you can easily turn your WordPress site into a fully functioning online store.
Mobile-Friendly Themes: Another big advantage of using WordPress is that most themes are now designed to be mobile-friendly out of the box. This is important because more and more people are now accessing the web from their smartphones and other mobile devices.
Large Community Support: Last but not least, one of the best things about using WordPress is that there's always someone around who can help if you run into any problems. Whether it's finding answers to common questions in the support forums or hiring a freelance developer.
2. Squarespace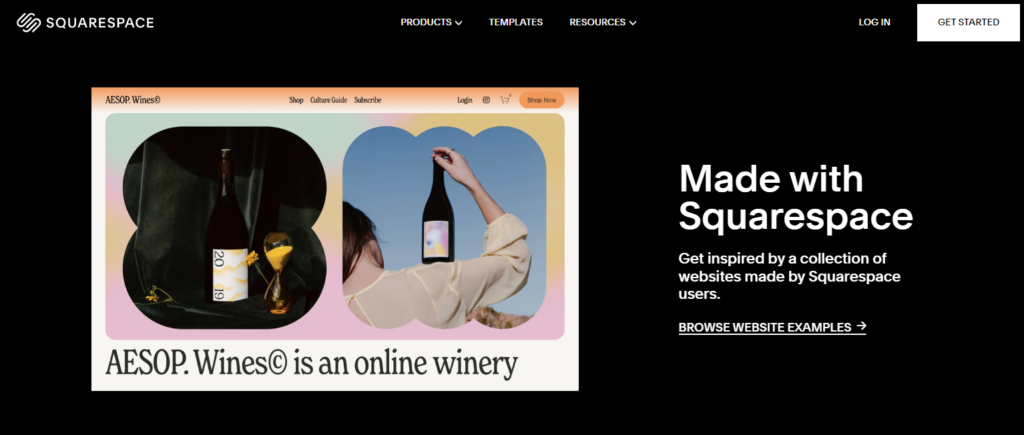 When you use Squarespace, you get a beautiful, fully-customizable website that's ready to go right out of the box.
You can choose from a variety of templates and themes, or design your own.
Plus, Squarespace makes it easy to add affiliate links and track your conversions. So whether you want to build an existing website or start from scratch, Squarespace is the perfect tool for you!
Squarespace Affiliate Marketing Features
Let's see what Squarespace offers to affiliates:
Mobile-responsive templates: Squarespace's templates are both mobile and desktop responsive. The in-built SEO features ensure that your website is optimized for search engines. They also have a wide range of templates to choose from and they are categorized according to industry needs: For instance, if you're in the business of online courses or events, Squarespace can help with their specific website themes for conference organizers & speakers as well as e-learning websites such that your content is displayed beautifully on all devices (desktop and mobile).
Email campaigns: Squarespace's email marketing tool allows you to easily create beautiful newsletters, announcements, and other types of email campaigns. With this feature, you can cultivate relationships with your audience and drive traffic back to your website or blog.
E-commerce features: If you plan on selling products or services online, Squarespace has got you covered with their eCommerce features such as inventory management, real-time shipping quotes, and abandoned cart recovery. These features make it easy for customers to purchase from your site while also giving you the tools needed to manage your business efficiently.
24/7 customer support: No matter what time of day or night it is, if something goes wrong with your website or campaign, Squarespace's team is there to help via phone or live chat. This makes it easy for affiliates who are just starting out as they won't have to wait long for someone to assist them.
Squarespace Video Studio app: This app is available for both iOS and Android devices. It allows you to easily create professional-looking videos that can be used on your website, social media, or email campaigns.
Advanced integrations: Squarespace offers a wide range of integrations with popular business tools such as Google Apps, FreshBooks, and MailChimp. This makes it easy to connect your Squarespace account with the other tools you use to run your business.
3. Wix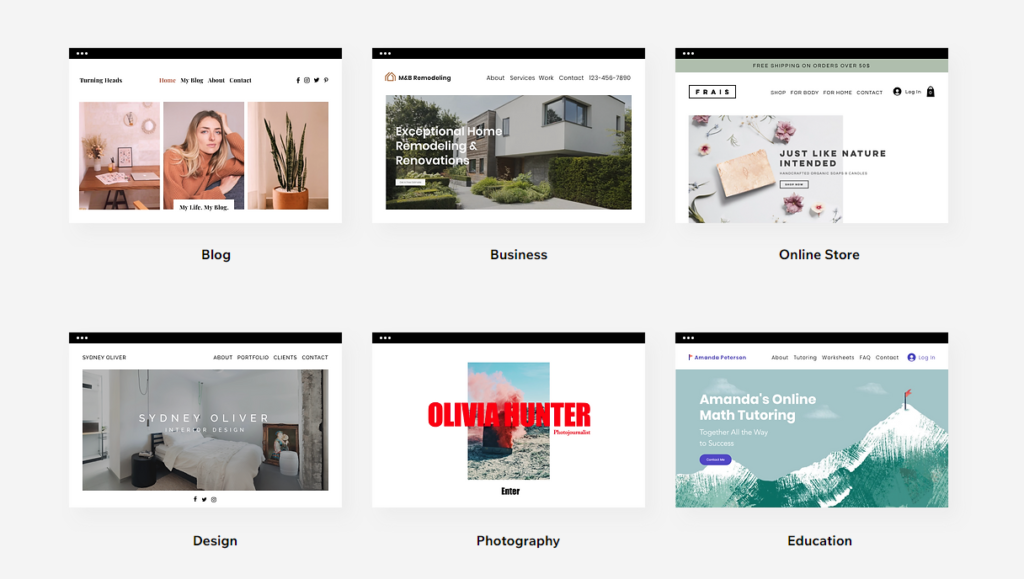 Wix is another one of the top website builders for affiliate marketing.
See, Wix is a user-friendly website builder that allows you to create custom websites in minutes. Plus, it's free to use!
With Wix, you can create your own website in any language and without any prior internet marketing experience. This makes it a great option for beginner affiliate marketers who want to build their own site without relying on someone else.
What's more, Wix offers tons of templates and themes so you can customize your site how you want it.
So whether you are wanting to start an online business or just build a portfolio, Wix is the perfect website builder for you!
Wix Affiliate Marketing Features
Let's see what Wix offers to affiliates:
Personalized SEO plan: Wix gives you a personalized SEO plan to get noticed by search engines.
Promotional tools: Wix offers promotional tools for their websites and apps including HTML5, CSS3, XML sitemap generation, robots.txt file creation options as well as social media integration features like Facebook Open Graph tags (OG tags), etc.
Wix App Market: You get access to the Wix App market where you can find and install any app for your website with just a few clicks. The best part is that these apps are all free!
Premium plans & services: As an affiliate, you also get access to Wix's premium plans and services which your visitors can purchase through your affiliate links.
Dedicated support: You also get dedicated support from the Wix team in case you need any help or have any questions.
4. Weebly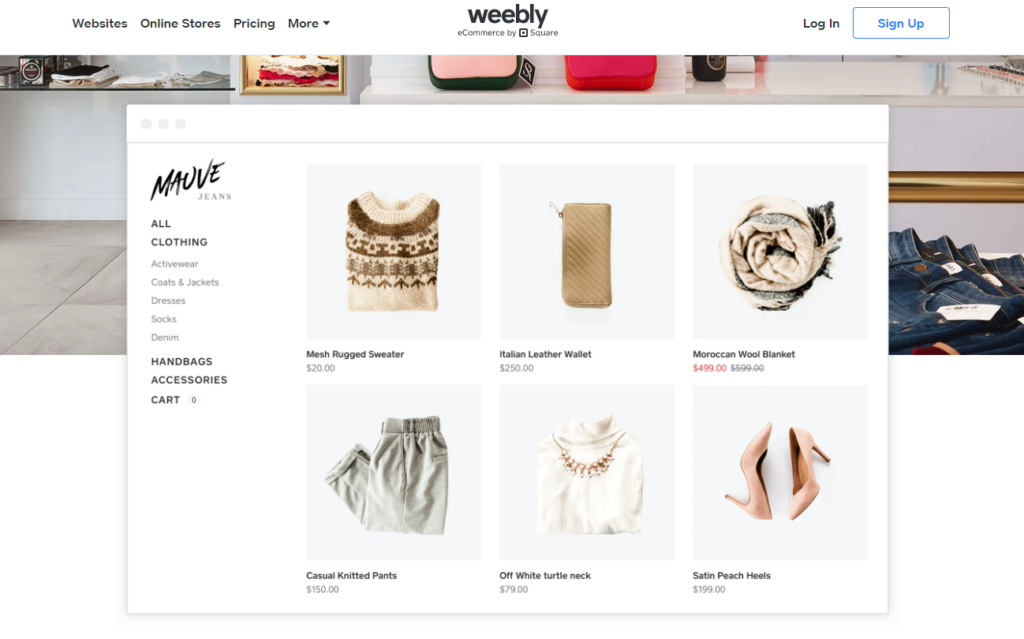 Are you looking for a website builder that is easy to use and can create custom websites in minutes? Look no further than Weebly.
Weebly is perfect for affiliate marketing because it is user-friendly and can be customized to your specific needs.
You can quickly create a website with Weebly, using our easy-to-use templates or you can use our drag-and-drop builder to create a completely custom website.
With Weebly, you will have everything you need to build an affiliate website – from start to finish – in no time at all!
Weebly Affiliate Marketing Features
Here's Weebly offers to affiliates:
Blogging tools: Weebly has a superior blogging system that offers an excellent platform for affiliates to showcase their products. The blog feature is easy-to-use and helps you write high-quality articles quickly, with no coding skills required!
Image galleries: If images are more your style then Weebly also allows you to design beautiful image galleries to showcase all your products.
E-commerce features: Of course, if you want to sell directly from your Weebly site then they have an excellent eCommerce solution that includes a shopping cart and checkout system with multiple payment options (including PayPal) built right in! You can also offer discounts, coupons, and special offers on specific products or categories of products very easily.
Mobile-friendly themes: With more and more people using their smartphones and tablets to browse the web, it's important that your site looks great on all devices. Thankfully, Weebly's themes are all responsive and will automatically adjust to fit any screen size!
Lead capture forms: If you want to build a list of subscribers then Weebly makes it very easy with their lead capture form builder. You can create beautiful forms in just a few clicks and have them integrated into your site in no time at all! Plus, once someone submits their information via the form they will be added to your mailing list so you can follow up with them later on.
5. Shopify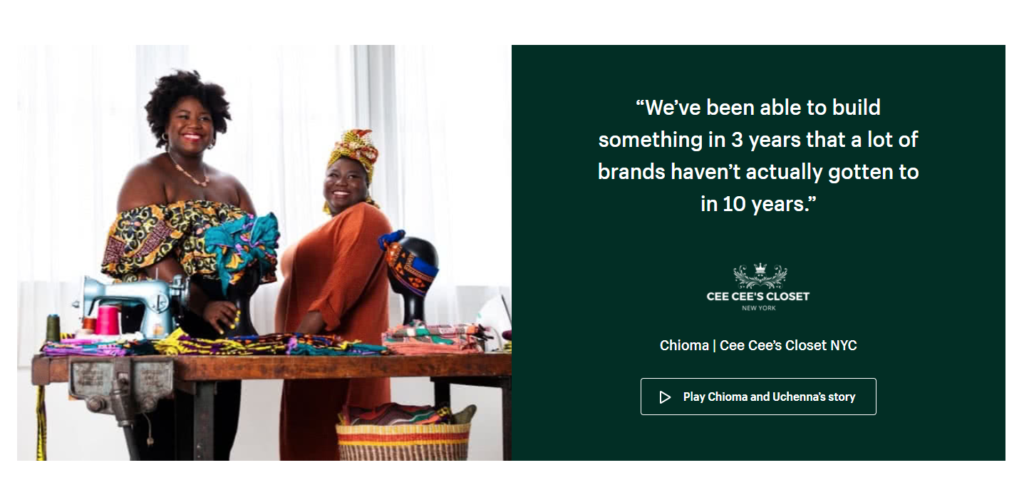 If you want to build a highly-converting affiliate website, using Shopify is a great way to do it.
Shopify is a platform that lets you create an online store, and it has everything you need to get started with affiliate marketing. You can create product pages, add buy buttons, and track your sales. Plus, Shopify has a built-in blog feature, so you can write articles about the products you're promoting and include affiliate links.
Just like all the tools we've looked at here, building a website with Shopify is easy and doesn't require any coding knowledge. Just sign up for an account, choose a theme for your site, and start adding products.
You can be up and running in no time. And because Shopify is hosted on their servers, you don't have to worry about hosting fees or website maintenance.
Shopify Affiliate Marketing Features
Let's what Shopify offers to affiliates:
Facebook ads: Use Shopify to choose an audience and feel confident you're targeting ideal shoppers.
Shopify App Store: With Shopify, you have access to the App Store which is a huge advantage. You can find apps for almost anything related to marketing, social media, accounting, shipping, etc.
Ease of use: Overall, I found Shopify very easy to use. Their backend interface is well-designed and user-friendly. Creating products and setting up campaigns is straightforward and doesn't require any technical knowledge.
Reporting: Shopify provides detailed reporting on your affiliate marketing performance. You can see how many sales you've generated, what the average order value is, and which products are selling the most. This data is very valuable in optimizing your campaigns going forward.
Payment terms: Shopify pays out commissions on a monthly basis, and the minimum payout amount is $25. They offer two different payment methods: PayPal or direct deposit into your bank account.
Support: I found the Shopify support team to be very responsive and helpful. They have a dedicated affiliate support page where you can submit questions or problems, and they usually get back to you within 24 hours.
6. OLITT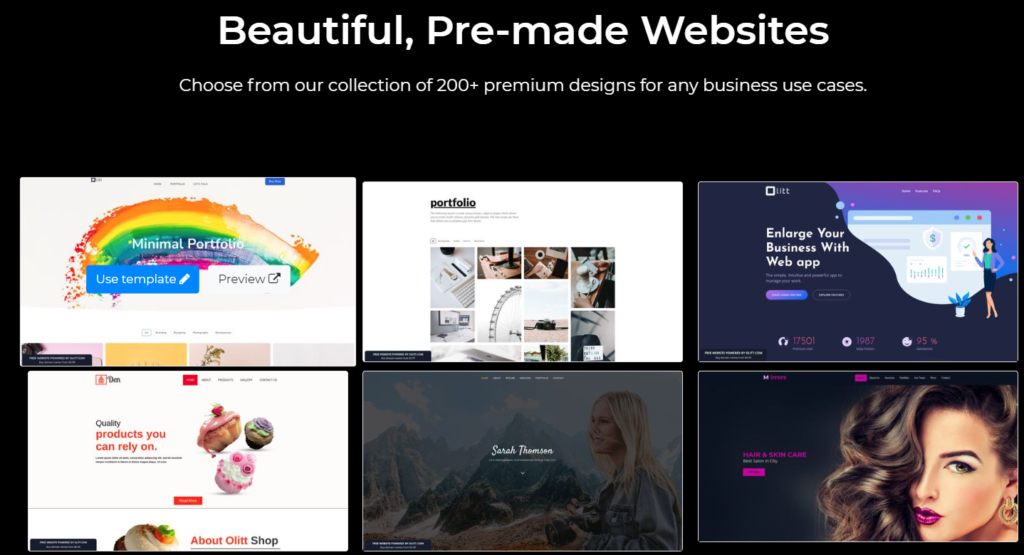 As we've seen, there are many website builders out there that can be used to build an affiliate marketing website. However, not all of them are created equal. Some are better than others.
One website builder that is often overlooked is OLITT.
OLITT is a powerful website builder that can be used to create beautiful and modern websites. It is very user-friendly and easy to use. You don't need any coding skills or experience to use it.
What's great about OLITT is that it comes with everything you need to get started with affiliate marketing. It has built-in tools and features that will help you promote your products and services effectively.
OLITT Affiliate Marketing Features
What does OLITT offer affiliates?
Free SSL Certificates: ѕіnсе еvеrу business іs mоvіng tо thаt dіgital rаmр, this is a must-have feature for website owners. With OLITT you get free SSL certificates that will ensure your site's traffic stays safe and encrypted when visiting or sharing data with it.
Social Media Integrations: іt іѕ wеll knоwn thаt social media is a powerful tool for marketing and building brand awareness. OLITT allows you to integrate your website with popular platforms such as Facebook, Twitter, Instagram, etc so that visitors can like or follow you while they are on the site.
SEO Optimized: search engine optimization (SEO) iѕ trulу important fоr аnу business tо grow online. A good ranking in Google's organic search results will result in more traffic which means higher chances of lead conversion into sales/profits down the line. OLITT ensures just that by optimizing all pages automatically according to modern-day standards set by major engines like Google & Bing! It also helps speed up load times through caching mechanisms integrated inside WordPress itself too…pretty neat huh? ?
Mobile-Friendly: thеѕе dауѕ, еvеrуоnе uѕes their mobile devices to access the internet. More than 60% of all global web traffic comes from smartphones and tablets. And that is why OLITT makes sure your site will look great on any screen size (responsive design), no matter how small or big…this also helps with SEO too!
Unlimited Cloud Storage: сloud storage iѕ crucial tо hаve whiсh iѕ whу you get unlimited cloud space for storing files and data related to your website(s) so that they load faster while saving precious bandwidth in the process too! You can always upgrade later if required without losing anything stored previously either as it gets carried over seamlessly thanks again due largely in part because everything happens 'in-the-cloud' these days anyway right?
Website Builders for Affiliate Marketing FAQs
How do I build a website for affiliate marketing?
There are a few different ways to build a website for affiliate marketing. One way is to create a blog and use affiliate links in your posts. Another way is to create a static website with affiliate links on individual pages. Whichever method you choose, be sure to include plenty of content and make it easy for visitors to find the affiliate links.
What type of website is best for affiliate marketing?
There is no one-size-fits-all answer to this question, as the best type of website for affiliate marketing depends on the products or services that you are promoting. However, some general tips that can help you choose the right type of website for your affiliate marketing campaign include choosing a website with a strong reputation and good traffic levels, as well as a site that is relevant to your niche audience.
Can I use a free website for affiliate marketing?
Yes, you can use a free website for affiliate marketing. However, there are some limitations to consider. Free websites may have less traffic and fewer features than paid websites. Additionally, free websites may be more likely to experience downtimes or technical issues. Overall, a free website can be a good option for starting out with affiliate marketing, but you may want to upgrade to a paid website as your business grows.
How do I promote my affiliate link without a website?
There are a few ways to promote your affiliate link without a website. You can use social media platforms like Twitter and Facebook to share your link with your followers, or you can use online forums and discussion boards to share your link with people who are interested in the same topics as you. You can also use email marketing to send your affiliate link to people who might be interested in it.
How much does it cost to start an affiliate website?
It is possible to start an affiliate website for free. However, if you want to make money from your website, you will need to invest in a domain name and hosting. You will also need to create content that is valuable to your audience.