If you are on the lookout for a new e-commerce site for your online store, then you've stumbled across the big names OLITT vs Ecwid.
Before you make a choice we're going to look at the features and some key important differences between the two.
We are going to compare the features, prices, ease of use, customer support, comparisons, and integrations to find out which is better for you.
Let's get started:
Introduction to OLITT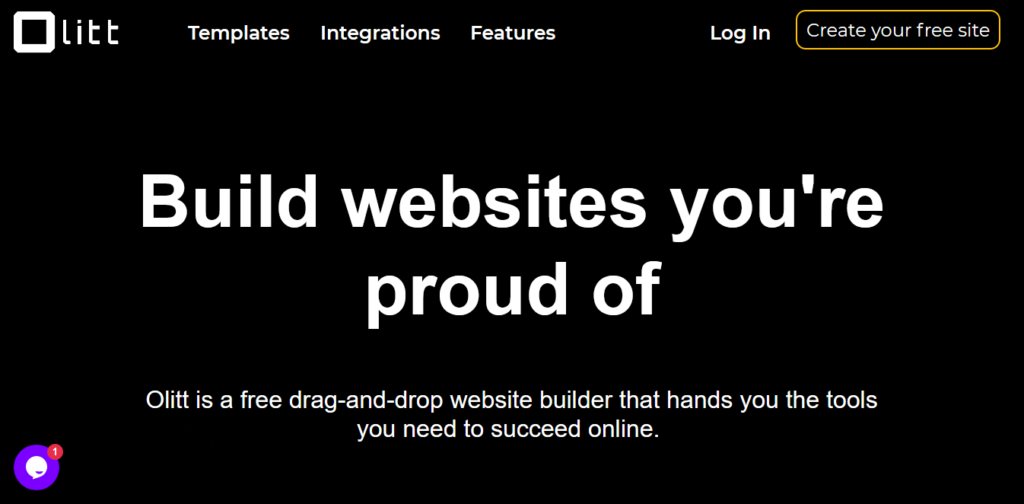 OLITT is a website builder that allows users to create their sites and hands you the necessary tools to help you succeed in the online business.
They provide over 300 templates, which can be customized with OLLIT's drag and drop editor.
You can easily create professional websites using these templates without having to hire a third party to do it for you.
This means that you save both time and money by using OLITT to launch your next website.
By using OLLIT as an entrepreneur, you can save time and money. You can as well manage physical and digital products on your online shops, Facebook page, Instagram page, and Whatsapp platform using the OLITT dashboard.
Introduction to Ecwid
Ecwid is an online store-building tool. It requires you to pay a monthly fee to use it for your online business.
Ecwid is also an e-commerce platform that allows you to set up 'catalogs' of products enabling you to add photos, pricing, and weight for each item.
You can use a web browser to access Ecwid without necessarily installing it on your computer.
Unlike other e-commerce platforms, Ecwid with an already existing website allows you to add an online store to it.
Features of OLITT shop vs Ecwid
A.) Loading pages
If you care about the load time of your site and your product pages, then OLLIT has got you covered.
It has compression techniques such as gzip or minification that makes your page smaller and load faster.
OLLIT also loads your pages faster by reducing their size. This means the web server has less work to perform hence loading your page faster.
On the other hand, Ecwid has a slow rate of loading pages. This is due to the many apps in the Ecwid admin. They can slow your page loading time even if they're not in use.
B.) Pricing
OLITT Online Shop Pricing
OLLIT offers a free plan that comes with the following features:
1 GB Storage
Unlimited Bandwidth
Support via forum & KB only
Google ranking with SEO
DNS Management
Security with SSL
Discounted Domains
Free Pre-built Websites (3)
OLITT branding ads
OLITT's Popular plan goes for $29.99 per year and it comes with the following features:
Free hosting
Unlimited Storage
1 Free domain for 1 year
1 Shop Template
Connect Multiple Custom Domains
SEO & Marketing tools
Additional Free Websites (10)
Remove OLITT branding ads
Accept online payments
ECWID Online Shop Pricing
Ecwid has a reasonable price because it offers a total of four packages. The first package is completely free to use.
The free package offers you a maximum of ten products within a one-page website with a built-in online store.
The free plan also allows selling through multiple social media sites with buy now buttons or social media integrations.
It also allows you the ability to sell in person in a brick-and-mortar store with three different points of sale integrations.
Other basic features that come with the Free Ecwid plan include Discount Coupons and the ability to sell digital products.
Unfortunately, the free plan does not allow you to integrate Facebook, Instagram, or Whatsapp platforms to sell your products. 
Additional plans of Ecwid include:
$12.5 a month for Venture
$29.17 a month for Business
$82.50 a month for Unlimited
The unlimited plan allows you to list as many products as you like and you can add any number of staff accounts under it.
C.) Payment Methods
With OLLIT, credit and debit cards can be used in payment. However, in a local setup, it allows you to integrate country-specific code for your online store and get paid.
For example; if you are in Kenya, you can use MPESA to get paid easily.
On the other hand, Ecwid has a Point-of-sale (POS) feature to sell your products online and physically.
It has two ways to use this functionality. They include:
Mobile POS – This involves downloading an app called 'sell on go' to your mobile device and integrating it to Paypal.
Full POS integrations- This POS system allows you to integrate a variety of hardware to get payment. Unfortunately, this integration applies only to the unlimited Ecwid plan that goes for $99 a month.
D.) Customer Service and Support
Both OLITT shop vs Ecwid offer support in a variety of ways.
OLITT provides phone and email support, live chat forums, help center webinars, a blog, and other free tools for making the most of the platform.
Ecwid support options include email live chat, help center, community forum, guides, videos, and more users on paid plans can access telephone support too. Users on the top-tier plans receive custom development support.
On top of that, there are plenty of self-help options that you can use if you are unable to get full service from Ecwid.
However, the level of support from Ecwid is dependent on your plan. This means the more money you pay for your plan, the higher the support services you get.
E.) Integrations
OLLIT is the clear winner when it comes to integrations. It uses Facebook, Instagram, and even WhatsApp platforms to sell its products.
You can easily pull the customer's images from their account on these integrated platforms and place them on the products to add a personal element. This helps in promoting your products.
OLITT offers integrations that can help you customize your store in any way that you would like.
Ecwid has a smaller number of integrations that you can only access when you're on premium plans and not the free plan.
F.) Ease of Use
Both platforms do not have complicated processes hence they're very easy to use. This makes it perfect for you if you want to make a simple easy user interface.
However, All this simplicity comes with a price. If you want a simple platform, you're going to have to sacrifice the functionality side.
This means that you'll have to engage in adding addons, apps, and integrations which are sometimes owned by third parties that charge an additional fee.
Therefore, the cost can balloon if you want to add functionality to your e-commerce platform.
To summarize the ease of use, they're both Very easy to use and are
Limited in functionality.
IN CONCLUSION
So now that we've covered OLITT shop vs Ecwid, which one is right for you?
You are going to have to choose OLITT if you are an online seller that's anticipating:
sustained growth
If you want a variety of stylish beautiful templates and templates that are highly functional.
If you plan to take advantage of the integrations in the OLITT shop to improve the e-commerce experience of your store.
You should choose Ecwid if you want to:
Boost your online presence on a budget without having too many different add-ons and too much functionality.
However, OLITT shop vs Ecwid deserves praise for their free plans. They will both help you if you need something basic to get started.
So that covers it with the comparison between OLITT shop vs Ecwid.